Caldwell Schools Board Meeting Update: The Board Meeting scheduled for Wednesday, February 8th, will now be held at 4:30pm instead of the usual time. Thank you.

Check out the progress that has been made on the new Athletic Complex! Thanks again for the wonderful services provided by Crock Construction and the great drone photos taken by CHS Senior, Blake Miller.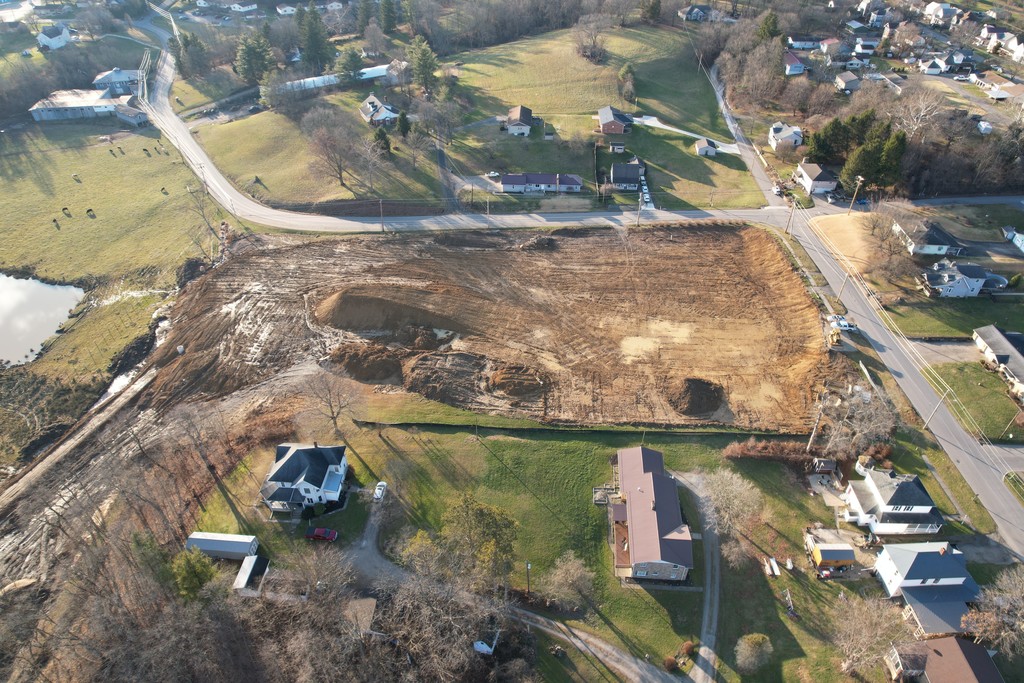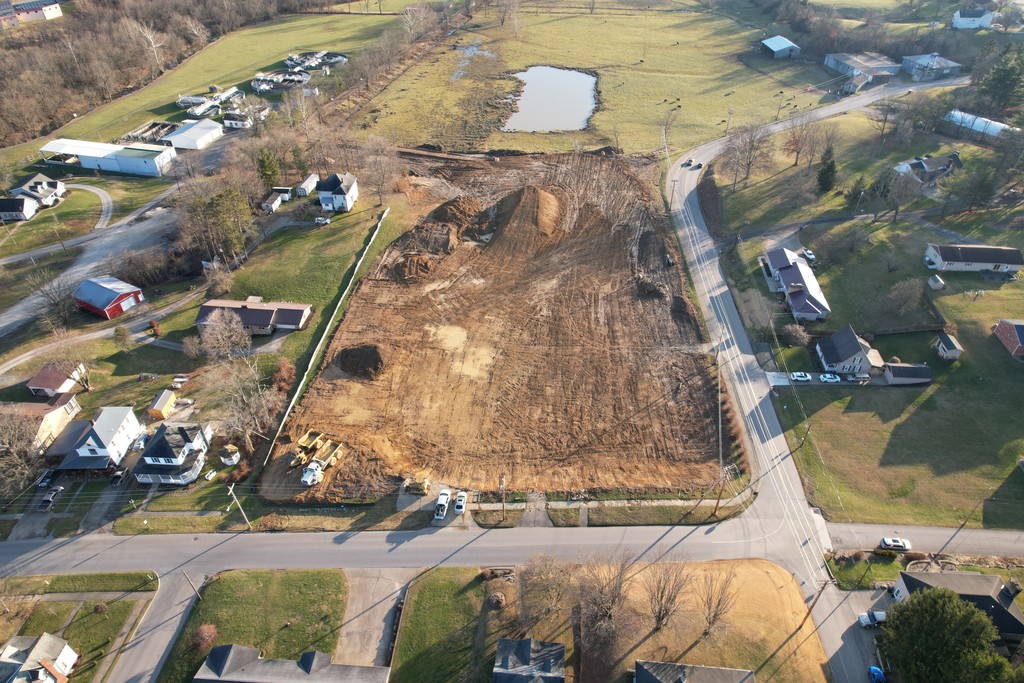 We are working on a grant in collaboration with the Noble County Engineer's Office and we need your input. This grant would provide the funding to create a safe walking/biking route from the high school to the elementary school past the new sporting complex. Your input is needed on prioritizing the proposed construction projects. The survey linked below will take less than two minutes to complete. Thank you for your time and assistance!
https://forms.gle/MdV9coNgvDvoRXQ58

Good evening Caldwell families. We wanted to let you know that the Elementary School had a water line break this evening, so the Elementary School will be CLOSED tomorrow, January 6th. The High School will maintain its normal schedule.

~~~BOARD MEETING UPDATE~~~ The board meeting that is scheduled for Tuesday, December 13th, 2022, will now be taking place an hour earlier, at 4:30pm. Thank you for your understanding.

Hello Caldwell families. This is a reminder that school will be dismissed 2 hours early tomorrow, November 10th, for parent teacher conferences. As a result, the after school program for tomorrow is also cancelled. Thank you.

Hello Caldwell families, there will be some surveys sent out to students in the near future. These surveys can be reviewed ahead of time on the front page of our website (caldwell.k12.oh.us) by pressing the button labeled Surveys. If you wish for your student(s) to be excluded from any of those surveys, please fill out the opt out form that is also located on the Surveys page. Thank you.

Washington DC trip $100.00 Deposit. Money is due on or before October 18, 2022 Grades 7, 8 Paid to Caldwell Grade School, Grades 9, 10 Paid to Caldwell High School All students attending the Washington DC Trip will need to make a deposit of $100.00 to their students' school office. Payment can be Cash, check, or Venmo. All checks will be made out to Traveling Classrooms.

Please see the attached letter from the Superintendent regarding the lockdown on September 8th.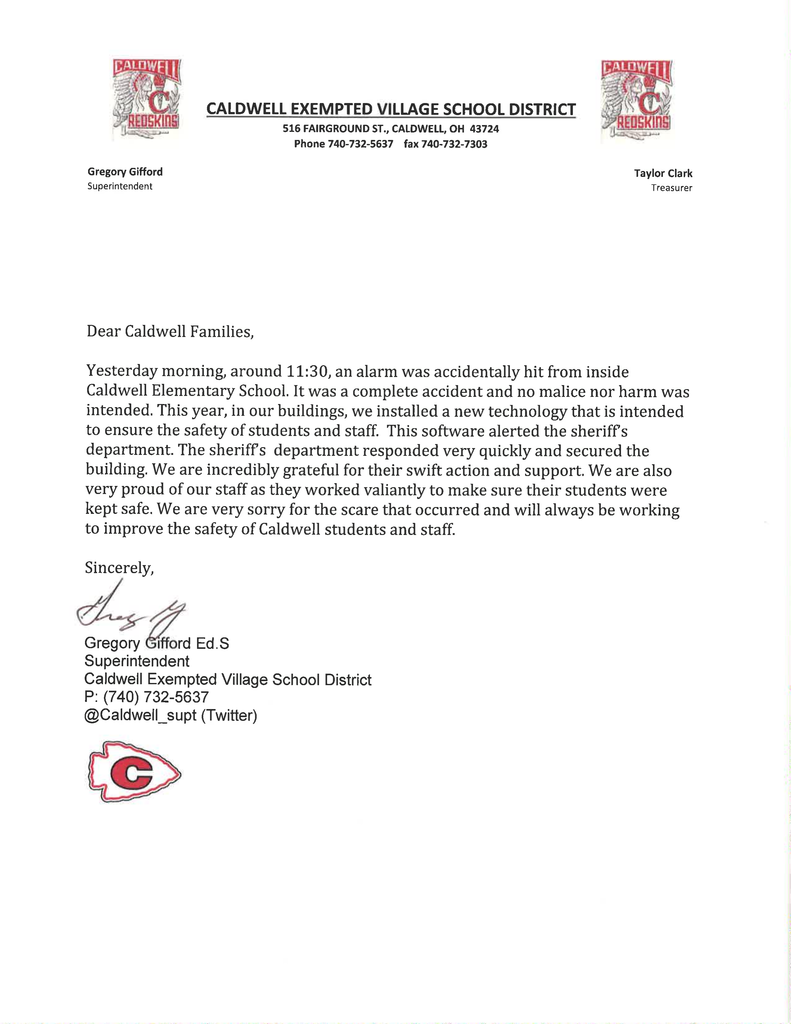 The Caldwell EVSD Board Meeting has been moved from June 14th, 2022, to June 7th, 2022. The meeting will still take place at 5:30pm in the Board Room at the administration building.


~~~BOARD MEETING UPDATE~~~ The Board of Education Meeting will now take place at the High School Auditorium at 5:30pm this evening, March 8th.

Treasurer Search – Caldwell Exempted Village School District Caldwell Exempted Village School District's Board of Education is seeking a highly qualified, dynamic and experienced individual to serve as treasurer. This person will lead the fiscal office and oversee the financial stability of the district. The board is working with Muskingum Valley Educational Service Center to conduct the search process. Please visit this link for more information:
https://www.mvesc.org/careers/treasurer-search-caldwell/

Good evening Caldwell! Due to icy conditions on many of our back roads, Caldwell Schools will be closed tomorrow, February 9th. This will be treated as a traditional calamity day. Please stay safe and keep warm. Go Redskins!

Attention! The February Board Meeting (taking place on February 8th, 2022) will now be taking place at 4:30PM. Thank you!

Good Evening. Caldwell Schools will be closed Tuesday, January the 18th and Wednesday the 19th. These will be traditional snow days. Be safe and enjoy the snow!


Hello, due to potential inclement weather, the K-8 after school program has been canceled for this evening. Please keep an eye out for other updates as the day progresses. Thank you and stay safe!

IMPORTANT REMINDER! We will be beginning practice drills this week throughout the district. These drills will include securing the building and going into lockdown. Our goal is to make students more confident and aware in the event of an actual emergency.

For those who receive a hotspot and need directions on setting it up, please refer to the pictures on this post. Alternatively, you can go to our website at:
https://www.caldwell.k12.oh.us/browse/50197
to download the document to your device.